Week 9 Term 1 - Friday 26th March 2021
Filter Content
Week 9 Term 1 - Friday 26th March 2021
Flood Update and Support
As we all know, the past week has been an extraordinarily difficult and traumatic time for our school, Parish and wider community. The extreme effects of the weather and flood event we have experienced were not foreseen or able to be contained. We are very grateful that the people in our communities at this stage are physically safe and well, notwithstanding the massive impact that has been felt, and will continue to affect people we know and care for.
We want to reach out in support to all of you and others that you know, in whatever way we can. While you are certainly in our thoughts and prayers, we can also be of more direct assistance. Please contact us with anything that you feel you need so that we can help or direct you to where help can be found.
At a school level, we are able to assist with a number of physical things, but also with the security for your children of routine, safety and wellbeing. We know that this will be an ongoing concern for many families, and we are here to help.
At a Parish level, we are so fortunate to have people ready to assist with the vital first steps of families who have lost something or everything. Details for contact of people requiring immediate and ongoing help:
Phone: Parish Administration Centre 65887444
Email: communications@stagnesparish.org.au
Of course then we come to our community who want to help because many of us are still safe in our own homes and grateful to be able to help those in need. Please assist currently where you can through the Parish details below, as there is a dedicated team who are able to target needs. In addition, each school is collecting specific items to help with food supplies. St Joseph's students can bring our school's specific items to their class teacher on our Out of Uniform day (see details below) and we will get them to the Parish for distribution.
Parish Support & Volunteering
Long term:
With easing of the weather, Parish would like to arrange teams to assist with the clean-up activities of devastated areas - please register your interest with the Parish if you can do this.
Short term:
Accommodation

for those displaced where possible in available Parish buildings and centres.

Providing a place to have a

shower, and wash clothes

and a dry place to have a cup of tea or coffee at the Youth Hub Hall (Horton Street) and showers near the Parish Hall (49 Hay Street).

Gathering

supplies

to distribute, of toothbrushes, toothpaste, towels, soap, shampoo, conditioner and deodorant (smaller/travel size packs would be ideal).

Please drop any items to reception at the Parish Administration Centre or the Presbytery.
Donate to Parish Appeals:

St Agnes' Catholic Parish Giving - Giving (stagnesparish.org.au)

- money raised will assist those who need it now and when they return to their homes. Similar to the care packages provided to families during COVID and the bushfires, this fund is invaluable in helping those in need. Families with immediate needs have already been assisted with available funds.
Flood Relief - Out of Uniform Day
In support of the relief appeal, we will be having an Out of Uniform Day on Tuesday 30th March.
Many families in our Parish schools have been asking how they can assist those in need within our local community. The St Agnes' Catholic Parish Schools Flood Relief are currently coordinating collection of goods to support families. Note: as our own school community has been majorly impacted, donations are not requested from those who have lost homes, businesses and belongings.
Our school has been allocated cereal, long life milk and long life juice. We ask that students please bring one of these items on Tuesday next week. If you are looking to donate further, please click on the following link -
Kindergarten 2022
Our combined Parish Kindergarten 2022 information evening will be held at 6:00pm on Tuesday 30th March 2021 at St Joseph's Primary in our MPA. Any parents and carers considering enrolment for 2022 are invited to attend and find out about our Parish and the school they will be zoned for. Please share this with anyone you know and encourage them to submit an application as soon as they are ready, so that they can ensure an interview for their child soon.
Tess Koning
Principal


Sacrament of Penance Update
The Sacrament of Penance has been postponed until a future date can be organised.
Come and spend time with Jesus this Easter.
Watch the personal invitation from Fr Paul where he invites you to celebrate Easter with us at St Agnes' Catholic Parish this year.
Nathan Porter
Assistant Principal Mission
In a week where water has proven to be in surplus and wreaking havoc for our community it is ironic that Monday 22nd March was World Water Day. The theme this year was around valuing water. As a community we have certainly seen plenty of it and no doubt understand its value and purpose more than some. At a time where we have had drought, fire and now floods water has played a pivotal role for all of us.
Just remember we are always here to support you and your family if you are in need of anything at all.
God promised to protect us and keep us safe. We know he works in mysterious ways but he will give us the strength we need to endure our current situation.

Our prayers are with you all!


Jeannine Ucdereli
Assistant Principal Learning and Teaching
Easter Mass Times
Adult Faith Formation
Kindergarten 2022
baptism for children
With the flooding event of the last week many of our school community have been affected.
We have shared with you a number of tips from the Australian Psychological Society that may be helpful in supporting your children at this challenging time as well as looking after yourself.
While most people will 'bounce back' after an event such as this, there may be prolonged distress for others. If you are concerned about your child or yourself, please feel free to contact me here at school so we can discuss what options might be available for you and your child. Alternatively, you can make an appointment with your GP to discuss seeing a mental health professional under a Mental Health Care Plan.
Keeping all of you in our thoughts,
Kelly Russell
School Counsellor
A picture book by QLD Heath
Year 7 2022 Enrolment Applications
YEAR 7 2022 ONLINE ENROLMENT APPLICATIONS - ST JOSEPH'S REGIONAL COLLEGE AND MACKILLOP COLLEGE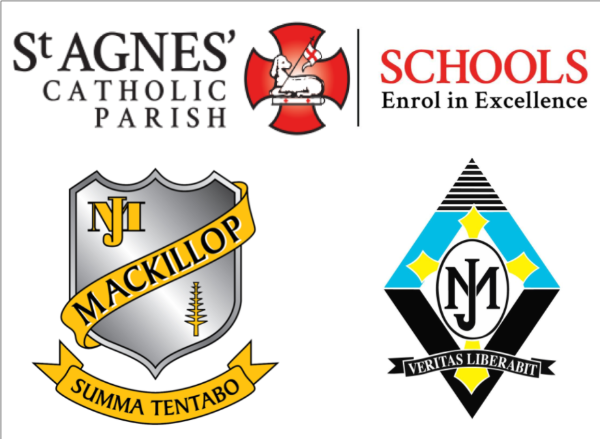 Year 7 2022 online Enrolment Application portal is now open.
Please complete your application at the links below.
St Joseph's Regional College
https://www.pmreglism.catholic.edu.au/how-to-enrol
MacKillop College
https://www.pmaclism.catholic.edu.au/how-to-enrol
It would be appreciated if online enrolments can be submitted prior to Sunday 25th April 2021.
YEAR 7 2022 INFORMATION AND OPEN EVENING DATES
St Joseph's Regional College Hall on Monday 26th April at 5:00pm
MacKillop College Hall (Ocean Drive) on Tuesday 27th April at 6:00pm.
Children are encouraged to attend.
Due to the weather and floods the following sporting events have been rescheduled:
Winter Sport Trials
The Diocesan Winter Sport Trials have been rescheduled to Tuesday 30th March for Netball and Hockey in Grafton.
Soccer is now on Wednesday 31st March in Grafton.
Rugby Union is postponed until Term 2. When we are advised of the new date we will email you. The venue will remain as Grafton.
Cross Country
Our Cross Country Carnival will be rescheduled to the second day back at school next term, Tuesday 20th April with a back up date of Wednesday 21st April. We will hold the Cross Country presentation on Friday 23rd April at 2:15pm.
Futsal
The Hastings School Futsal Titles have been rescheduled to Thursday 29th April.
Leah Toole and David Lynch
Sports Coordinator and Assistant Sports Coordinator



Week 10 - Term 1 2021

Sunday 28th March
Monday 29th March

9:10am Morning Prayer, 4MG hosting
Year 6 Camp Instalment 4 due ($45.00)

Tuesday 30th March

OUT OF UNIFORM DAY - FLOOD RELIEF APPEAL
Diocesan Winter Sports Trials - Netball and Hockey, Grafton (selected students)
3:15-5.00pm Infants (K-2) Speech and Drama, Hall
6:00-7:00pm Kindergarten 2022 Information Night, St Joseph's Primary, MPA

Wednesday 31st March

Last Day of classes for Term 1
Diocesan Winter Sports Trials - Soccer, Grafton (selected students)
3:15-5.00pm Primary (Years 3-6) Speech and Drama, Hall
3:30-4:30 Staff Meeting

6:00pm Sacrament of Penance Ceremony

- POSTPONED Date to be advised

Thursday 1st April

Holy Thursday
Staff Development Day (Pupil Free Day)

Friday 2nd April



Week 1 - Term 2 2021

Monday 19th April

Year 6 Camp Instalment 5 due ($45.00)
9:10am Morning Prayer - 4MG Hosting

Tuesday 20th April

K-6 Cross Country Carnival
3:15-5.00pm Infants (K-2) Speech and Drama, Hall

Wednesday 21st April

Cross Country back up date
3:15-5.00pm Primary (Years 3-6) Speech and Drama, Hall
3:30-4:30 Staff Meeting

Thursday 22nd April

4:30-5:30pm Kindergarten 2022 Tour of St Joseph's Primary

Friday 23rd April

Polding Winter Sport Trials, Bathurst (selected students)
2:15pm Cross Country Presentation

Sunday 25th April
Week 2 - Term 2 2021
CATHOLIC SCHOOLS WEEK

Monday 26th April

9:10am Morning Prayer
5:00pm Year 7 2022 Information night, St Joseph's Regional College

Tuesday 27th April

3:15-5.00pm Infants (K-2) Speech and Drama, Hall
6:00pm Year 7 2022 Information Night, MacKillop College

Wednesday 28th April

Zone Cross Country, Bowraville (selected students)
3:15-5.00pm Primary (Years 3-6) Speech and Drama, Hall
3:30-4:30 Staff Meeting

Thursday 29th April

Hastings School Futsal Titles, Port Macquarie Indoor Stadium (selected students)
Please note these dates can change from time to time due to unforeseen circumstances and we will endeavour to advise you of any changes at the earliest possible opportunity. Our school Google calendar can be accessed via this link for additional advanced dates -
For your convenience 2021 school term dates are listed below. They are also located on our website. Click on the words "TERM DATES" on the home page.
TERM 1 2021
Kindergarten to Year 6 last day of classes Term 1 - Wednesday 31st March 2021
Staff Development Day (Pupil Free) – Thursday 1st April 2021
Limited child minding available
TERM 2
Kindergarten to Year 6 commence classes Term 2 - Monday 19th April 2021
Proclaim Lismore 2021
Staff Development Day (Pupil Free) - Wednesday 5th May 2021
Limited child minding available

Staff Development Day (Pupil Free) - Tuesday 22nd June
Limited child minding available

Kindergarten to Year 6 last day of classes Term 2 – Friday 25th June 2021
TERM 3
Staff Development Day (Pupil Free) – Monday 12th July 2021
Kindergarten to Year 6 commence classes Term 3 – Tuesday 13th July 2021
Kindergarten to Year 6 last day of classes Term 3 – Friday 17th September 2021
TERM 4
Staff Development Day (Pupil Free) – Tuesday 5th October 2021
NO child minding available
Kindergarten to Year 6 commence classes Term 4 – Wednesday 6th October 2021
Kindergarten to Year 6 last day of classes form Term 4 - Wednesday 15th December 2021
Other Holidays in 2021
Australia Day – Tuesday 26th January 2021 (Public Holiday)
Good Friday – Friday 2nd April 2021
Easter Monday – Monday 5th April 2021 (Public Holiday)
ANZAC Day – Sunday 25th April 2021
Queen's Birthday – Monday 14th June 2021 (Public Holiday)
Labour Day – Monday 4th October 2021 (Public Holiday)
Christmas Day - Saturday 25th December 2021
Boxing Day - Sunday 26th December 2021
Staff Development Day 2021-04-01
Diocesan Winter Sports Trials third postponement to 30_31 March 2021
Flood Relief - Out of Uniform Day
ANZAC Day 2021
Cross Country 2021 - Further change of date
NOTICEBOARD
GLASSHOUSE - SPROUTS
Glasshouse Regional Gallery
glasshouse.org.au
Art for Kids on the weekends and during the school holidays. Bookings essential. Click on the flyer for full details
Read More